Microsoft Office 2021 package
Microsoft Office 2021 package for Windows or Mac
d
h
m
s
Microsoft Office 2021
Word, Excel, Outlook, Skype... these are just a few of the programs we need at home, at work and at school all the time. Unfortunately, the Microsoft Office package is no longer automatically on new computers or laptops, so we often have to buy an expensive license.
With Outspot this is a thing of the past! We now offer 2 Microsoft Office 2021 packages at a razor sharp price! This way you can get started in no time with your new laptop or keep your existing one up to date! Perfect for the new school year, ensuring your dearest is fully equipped to deal with every homework assignment.
Windows
The Professional Plus package is indispensable for companies and does not only include the standard basic package with Word, Excel, Powerpoint and OneNote, but also Teams, Publisher, Access and Skype for Business, but also Publisher, Access and Skype for Business.
All Microsoft Office 2021 series support Dutch, English, French, Spanish, German and Italian. You can set your desired language after installation.
Mac
Mac users aren't forgotten either. The Home & Business package for Mac includes Microsoft Word, Excel, PowerPoint, OneNote & Outlook. All of the above languages are also supported here and you can set the desired language after installation.
System requirements
For Windows
Processor: 1.6 GHz, 2-core processor
Driver: Windows 10 or Windows 11
Memory requirement: 2 GB RAM for 32bit; 4 GB for 64bit
Hard disk space required: Up to 4 GB free hard drive space
Graphics Card: A DirectX 10 graphics card is required for graphics hardware acceleration
Screen resolution: 1080 x 768 or higher
Internet access required
For Mac
Processor: recent Mac OS with 1.6 GHz, 2-core processor
Driver Mac OS
Memory required: 4 GB RAM
Hard disk space required: Up to 10 GB of free hard drive space
Graphics Card: A DirectX 10 graphics card is required for graphics hardware acceleration
Screen resolution: 1280 x 800 or higher
Internet access and a microsoft account are required
Practical
The software is valid indefinitely on one computer.
At the top left of your voucher you will find your unique licence code. Please check your spam folder.

An overview of the steps can be found in the manual.
Attention: the license code should be activated within 6 months after your purchase. After that the code will no longer be valid.

This is an online download: you will not receive a package at your home.
Customer service:
Your order cannot be cancelled or returned.
Campaign number : 15579
×
What our customers say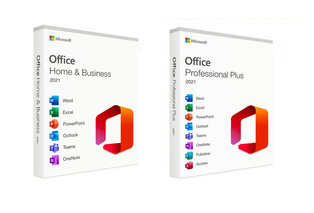 Microsoft Office 2021 package
Unique: 100% money-back guarantee
It's unbelievable, but it's true. You never have to worry again when buying an experience for your friends, colleagues, family or for yourself. If you have second thoughts or if the recipient is not completely happy with the gift voucher, no problem at all.That's because at Outspot.be you can revoke your purchase up to 6 months after ordering it! So you or the recipient of the voucher will receive a full refund within that 6-month period, without any hoops to jump through. This guarantee is naturally only valid insofar as the voucher has not yet been reserved, used or has expired. What a truly unique and exceptional guarantee. But, after all, that's what Outspot is like. Please note: the guarantee does not apply if the refund guarantee is not explicitly stated on any special offer, as in some cases we are unable to reclaim the delivery/tickets from our partners.
Close
Free returns
Are you not as happy as expected with the product you ordered? Then contact our helpdesk within 30 days of receiving it and you can return the purchase free of charge. It doesn't matter what the reason is! We'll refund your purchase and you can order anything you wish, hassle-free. Just another great idea, from Outspot of course!
Close
Open day title
Come and test your divan next Saturday, 11 November, between 14.00 and 17.00 during our open day at the Crowne Plaza Hotel in Antwerp. Discover the different sizes and models and enjoy a cup of coffee or cool drink while listening to our expert advice.
Have you already completed your purchase but you're not convinced by its merits during the open day? No problem, it's risk-free! While we are certain that our divans will steal your heart, we'll be happy to refund your voucher if you are in anyway unsatisfied. So don't dither, order your new bed now and come and test it out in Antwerp!
Close