5-in-1 USB Adaptor for Fast File Transfer
d
h
m
s
Where did all the USB ports go?
Have you noticed it too? Laptops nowadays can do more and more, but have less and less USB ports. Strange, isn't it? You have connected your keyboard and mouse, but... now you have no more room for your USB stick and because you have no HDMI port, you cannot use your second screen with your brand new computer either. To solve this problem, Outspot offers you this 5-in-1 Multiport Hub USB adaptor today.
Connect this adapter to the USB-C port of your laptop and that's it. Now you can use two devices that work with USB-A 3.1 (the classic USB connection). You can also connect a (high-definition) HDMI cable. Thanks to the SD card port, you can transfer pictures from your camera to your computer in no time, and thanks to the MicroSD card reader (also known as TF port), you can easily transfer data from your mobile phone to your PC.
And because patience is a virtue of the past, you no longer have to wait for your files to be transferred. Because both USB-A ports work with super-fast data transfer. That means you can transfer data at 5 GB per second using the USB-A ports.
This adapter is compatible with all computers that have a USB-C port. Do you have a MacBook? Then you'll be pleased to hear that the design of this adaptor perfectly matches that of your computer.
Specifications
Available ports:
2 x USB-A 3.1 data: transfer your files quickly and easily at 5 GB per second
HDMI 4K 60Hz: clear picture and sound with 4K 60Hz support
Micro SD (TF) card: speed: 480 MBps
SD card: speed: 480 MBps
Good to know
The 5-in-1 USB C Hub is compatible with all laptops with a USB C data port, including Thunderbolt 3.
The Power Delivery function only works when your laptop contains a USB C Power Delivery port
Do you have a Lenovo laptop? Please check in advance if your USB C port has image support for using the HDMI connection.
This product is made with durable materials and latest technologies.
Campaign number : 15707
×
What our customers say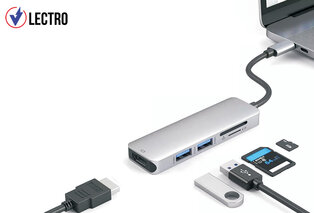 5-in-1 USB adaptor
Unique: 100% money-back guarantee
It's unbelievable, but it's true. You never have to worry again when buying an experience for your friends, colleagues, family or for yourself. If you have second thoughts or if the recipient is not completely happy with the gift voucher, no problem at all.That's because at Outspot.be you can revoke your purchase up to 6 months after ordering it! So you or the recipient of the voucher will receive a full refund within that 6-month period, without any hoops to jump through. This guarantee is naturally only valid insofar as the voucher has not yet been reserved, used or has expired. What a truly unique and exceptional guarantee. But, after all, that's what Outspot is like. Please note: the guarantee does not apply if the refund guarantee is not explicitly stated on any special offer, as in some cases we are unable to reclaim the delivery/tickets from our partners.
Close
Free returns
Are you not as happy as expected with the product you ordered? Then contact our helpdesk within 30 days of receiving it and you can return the purchase free of charge. It doesn't matter what the reason is! We'll refund your purchase and you can order anything you wish, hassle-free. Just another great idea, from Outspot of course!
Close
Open day title
Come and test your divan next Saturday, 11 November, between 14.00 and 17.00 during our open day at the Crowne Plaza Hotel in Antwerp. Discover the different sizes and models and enjoy a cup of coffee or cool drink while listening to our expert advice.
Have you already completed your purchase but you're not convinced by its merits during the open day? No problem, it's risk-free! While we are certain that our divans will steal your heart, we'll be happy to refund your voucher if you are in anyway unsatisfied. So don't dither, order your new bed now and come and test it out in Antwerp!
Close