Massage device for the neck
Ultralight neck massager from WellHealth
d
h
m
s
Promotes circulation, relaxes your muscles and relieves fatigue
Nothing beats a massage to leave behind the stress of a long day at work. Are you longing for a relaxing neck massage in the evening? But in the meantime, is your partner immune to your pleading eyes? This neck massager from WellHealth is perfect for you.
Thanks to its professional design, this neck massager fits comfortably around your neck. From then on, it is pure enjoyment with the six massage modes and 16 intensity levels of this miracle device. The combination of heat, red light and impulse functions helps muscle relaxation and pain relief in the upper part of the spine.
With this device by your side, you will be rid of all ailments associated with a stiff neck such as headache, lethargy, etc in no time. Get it now!
Contents
Massage device
Remote control (battery included)
Storage bag
USB cable
Specifications
Brand: WellHealth
16 intensity levels
6 massage modes: auto combination 1, auto combination 2, scraping, rolling, kneading, patting

Note: every time the massage mode is changed, the intensity level starts back at 1. It can be increased to level 16 for additional intensity.

Pulse frequencies: dual, high-frequency and low-frequency impulses
Far infrared heat pad: 8-14µm far infrared heating with three heat settings (+38°C ~ +45°C). The device can also be used without heat.
Irradiation with red light: 630-650 nm to act on muscle tissue
Power supply: 5V DC 1A (USB)
Input power: 5W
Lithium battery: 3.7C DC 1100 mAh
Charging time: 2 hours
Indicates when battery is low
Note: not suitable for people with pacemakers or pregnant women
Campaign number : 15468
×
What our customers say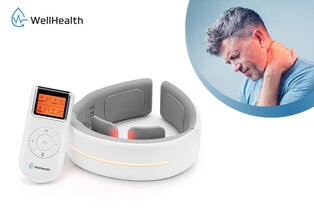 Massage device for the neck
Unique: 100% money-back guarantee
It's unbelievable, but it's true. You never have to worry again when buying an experience for your friends, colleagues, family or for yourself. If you have second thoughts or if the recipient is not completely happy with the gift voucher, no problem at all.That's because at Outspot.be you can revoke your purchase up to 6 months after ordering it! So you or the recipient of the voucher will receive a full refund within that 6-month period, without any hoops to jump through. This guarantee is naturally only valid insofar as the voucher has not yet been reserved, used or has expired. What a truly unique and exceptional guarantee. But, after all, that's what Outspot is like. Please note: the guarantee does not apply if the refund guarantee is not explicitly stated on any special offer, as in some cases we are unable to reclaim the delivery/tickets from our partners.
Close
Free returns
Are you not as happy as expected with the product you ordered? Then contact our helpdesk within 30 days of receiving it and you can return the purchase free of charge. It doesn't matter what the reason is! We'll refund your purchase and you can order anything you wish, hassle-free. Just another great idea, from Outspot of course!
Close
Open day title
Come and test your divan next Saturday, 11 November, between 14.00 and 17.00 during our open day at the Crowne Plaza Hotel in Antwerp. Discover the different sizes and models and enjoy a cup of coffee or cool drink while listening to our expert advice.
Have you already completed your purchase but you're not convinced by its merits during the open day? No problem, it's risk-free! While we are certain that our divans will steal your heart, we'll be happy to refund your voucher if you are in anyway unsatisfied. So don't dither, order your new bed now and come and test it out in Antwerp!
Close