Two pairs of compression socks for men and women
Two pairs of men's and women's multifunctional compression stockings
d
h
m
s
Feel fit and energetic again!
Exercise is healthy. So walking, cycling or just kicking a ball about for an hour every day is a great idea. But what if you get a blister from the first kilometre? Or you stumble over a blown-off branch and twist your ankle?
These compression socks work preventively and help to heal calf pain, muscle strains and cramps. Thanks to the targeted compression, blood circulation in the leg is stimulated. This ensures that fluid and waste products are discharged more quickly. This makes you feel fitter and more energetic, and you are also less likely to suffer injuries!
Thanks to the rib details on the ankle, you get extra support, which reduces the shock to your feet and makes you less prone to muscle damage! The reinforced and anatomically shaped footbed, the wide non-tightening cuff, the perfect seamless fit and the sporty design of the sock ensure optimal wearing comfort and allow you to be well prepared for your workout, trip, hike or any sport!
These stockings also relieve the symptoms of varicose veins and small capillaries. These are often the result of standing or sitting still for a long time, for example at the office. Wear a pair of compression stockings preventively to avoid this problem, now at a high discount.
Compression stockings are recommended for:
For both standing and sitting jobs. The compression socks help against tired and painful legs, reduce fluid and swelling and have a preventive effect against varicose veins.
Sports involving intensive use of the legs. For example: running, skiing, hiking, golf, tennis, cycling. The compression socks prevent injuries and muscle pain, help you to recover faster and reduce leg fatigue.
Travelling: reduces the risk of traveller's thrombosis and prevents swollen feet and restless legs
Specifications
Material: 84% polyamide, 8% polyester, 8% elastane
Compression details: 22-30 mmHg degressive compression Class 2
Unisex
Pressure class 2 (23-32 mmHg)
Colours: two-pack Multi Black, Multi Blue, Multi Red or Multi White
Choose from four sizes (based on calf circumference):

Shoe size 35-38 calf circumference 30-34 cm
Shoe size 39-42 calf circumference 34-38 cm
Shoe size 43-45 calf circumference 39-44 cm
Shoe size 45-47 calf circumference 45-50 cm

Please note that compression socks are put on differently from normal socks. Click here for the easiest way to put them on
Campaign number : 15452
×
What our customers say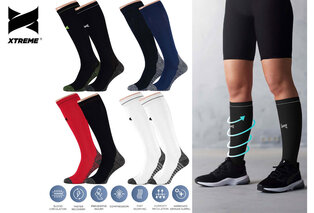 Two pairs of compression socks for men and women
Unique: 100% money-back guarantee
It's unbelievable, but it's true. You never have to worry again when buying an experience for your friends, colleagues, family or for yourself. If you have second thoughts or if the recipient is not completely happy with the gift voucher, no problem at all.That's because at Outspot.be you can revoke your purchase up to 6 months after ordering it! So you or the recipient of the voucher will receive a full refund within that 6-month period, without any hoops to jump through. This guarantee is naturally only valid insofar as the voucher has not yet been reserved, used or has expired. What a truly unique and exceptional guarantee. But, after all, that's what Outspot is like. Please note: the guarantee does not apply if the refund guarantee is not explicitly stated on any special offer, as in some cases we are unable to reclaim the delivery/tickets from our partners.
Close
Free returns
Are you not as happy as expected with the product you ordered? Then contact our helpdesk within 30 days of receiving it and you can return the purchase free of charge. It doesn't matter what the reason is! We'll refund your purchase and you can order anything you wish, hassle-free. Just another great idea, from Outspot of course!
Close
Open day title
Come and test your divan next Saturday, 11 November, between 14.00 and 17.00 during our open day at the Crowne Plaza Hotel in Antwerp. Discover the different sizes and models and enjoy a cup of coffee or cool drink while listening to our expert advice.
Have you already completed your purchase but you're not convinced by its merits during the open day? No problem, it's risk-free! While we are certain that our divans will steal your heart, we'll be happy to refund your voucher if you are in anyway unsatisfied. So don't dither, order your new bed now and come and test it out in Antwerp!
Close