Smart lighting from Laxihub
d
h
m
s
Light up your home the smart way
You come home from work and plop down on the sofa. Your eyes hurt from the bright light in the living room and you don't even have the energy to get out of your sofa for the first ten minutes. Then it's time for this Laxihub smart lighting! With one push on the button, everything is sorted in no time and you can keep your eyes open without a care.
The lighting is available in E27, E14 or GU10 fittings, depending on what suits your interior. For each setting, you create the ideal atmosphere. For each type, you can easily adjust the colour and brightness from a distance according to your personal preference, even if you are on the other side of the world! Do you want a perfectly lit house with the ideal brightness by the time you get home? And do you prefer to keep thieves as far away as possible? With the adjustable time schedules, this is also possible!
Be smart and choose this top offer now.
Specifications
Energy label A
For indoor use
Adjustable time schedules
Easy to install (with 2.4Ghz wi-fi router)
Free control and setting via the Smartlife or Tuya app, Google assistant or Amazon Alexa
Dimming function
Bluetooth technology
E27
Light source: LED lamp
Tuya or Smartlife app
Voltage: 230V
Diameter: 60mm
Weight: 69g
CRI: 85
Colour of light: RGBW
Lumens per light point: 800 lm
Power consumption: 9W
E14
Light source: halogen lamp
Tuya or Smartlife app
Weight: 37g
CRI: 80
Colour of light: RGBW
Lumens per light point: 420 lm
Power consumption: 5W
GU10
Light source: LED lamp
Google assistant or Amazon Alexa
Diameter: 637.5 mm
Weight: 52 g
CRI: 85
Colour of light: RGBW
Lumens per light point: 350 lm
Power consumption: 4.5W
Shipping
Free delivery.
Expected delivery time: 15 working days.
You will get an email as soon as your order is on its way.
View your orders via www.outspot.co.uk/en/my-purchases
Any questions?

For technical questions about the product, contact support@arenti.com
For questions about your order or the delivery, contact helpdesk@outspot.co.uk
Please always mention your order number in your message.

2 year guarantee applies through Outspot.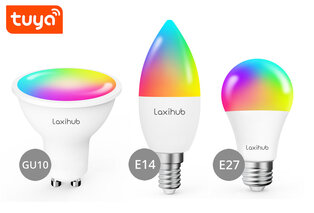 Smart lighting
Unique: 100% money-back guarantee
It's unbelievable, but it's true. You never have to worry again when buying an experience for your friends, colleagues, family or for yourself. If you have second thoughts or if the recipient is not completely happy with the gift voucher, no problem at all.That's because at Outspot.be you can revoke your purchase up to 6 months after ordering it! So you or the recipient of the voucher will receive a full refund within that 6-month period, without any hoops to jump through. This guarantee is naturally only valid insofar as the voucher has not yet been reserved, used or has expired. What a truly unique and exceptional guarantee. But, after all, that's what Outspot is like. Please note: the guarantee does not apply if the refund guarantee is not explicitly stated on any special offer, as in some cases we are unable to reclaim the delivery/tickets from our partners.
Close
Free returns
Are you not as happy as expected with the product you ordered? Then contact our helpdesk within 30 days of receiving it and you can return the purchase free of charge. It doesn't matter what the reason is! We'll refund your purchase and you can order anything you wish, hassle-free. Just another great idea, from Outspot of course!
Close
Open day title
Come and test your divan next Saturday, 11 November, between 14.00 and 17.00 during our open day at the Crowne Plaza Hotel in Antwerp. Discover the different sizes and models and enjoy a cup of coffee or cool drink while listening to our expert advice.
Have you already completed your purchase but you're not convinced by its merits during the open day? No problem, it's risk-free! While we are certain that our divans will steal your heart, we'll be happy to refund your voucher if you are in anyway unsatisfied. So don't dither, order your new bed now and come and test it out in Antwerp!
Close