Rechargeable bright headlamp
d
h
m
s
Light in the dark
"Could you give me some light?" When you're doing odd jobs, you often have to interrupt someone to hold the torch. With this rechargeable headlamp, these situations are a thing of the past and you'll always have your hands free and plenty of light! Set one of several modes - centre light, outer lights, all lights or flashing - and enjoy plenty of light in dark places.
This handy headlamp is also very practical for jogging, mountain biking or when walking the dog in the evening. That way, you'll always have a good view and won't be surprised by a low-hanging branch or an unexpected post. In addition, you can have the back lit in red. This way, you will be visible to cars and other road users. Soon you won't be able to do without it anymore!
Rainproof
Dimensions: 83 x 37 x 58 mm
Weight: 240 g
Batteries: 2 x 18650 - 3.7 V - 1800 mAh
Lumens: 5000
Charger: 100 - 240 V
Charging cable included
Material: Aluminium body and reflector
Rainproof
burn time: 5 h main light, 8 h side light
Note: remove blue foil around the batteries before use
Campaign number : 15545
×
What our customers say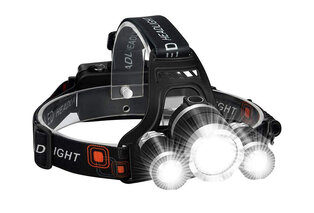 Rechargeable headlamp
Unique: 100% money-back guarantee
It's unbelievable, but it's true. You never have to worry again when buying an experience for your friends, colleagues, family or for yourself. If you have second thoughts or if the recipient is not completely happy with the gift voucher, no problem at all.That's because at Outspot.be you can revoke your purchase up to 6 months after ordering it! So you or the recipient of the voucher will receive a full refund within that 6-month period, without any hoops to jump through. This guarantee is naturally only valid insofar as the voucher has not yet been reserved, used or has expired. What a truly unique and exceptional guarantee. But, after all, that's what Outspot is like. Please note: the guarantee does not apply if the refund guarantee is not explicitly stated on any special offer, as in some cases we are unable to reclaim the delivery/tickets from our partners.
Close
Free returns
Are you not as happy as expected with the product you ordered? Then contact our helpdesk within 30 days of receiving it and you can return the purchase free of charge. It doesn't matter what the reason is! We'll refund your purchase and you can order anything you wish, hassle-free. Just another great idea, from Outspot of course!
Close
Open day title
Come and test your divan next Saturday, 11 November, between 14.00 and 17.00 during our open day at the Crowne Plaza Hotel in Antwerp. Discover the different sizes and models and enjoy a cup of coffee or cool drink while listening to our expert advice.
Have you already completed your purchase but you're not convinced by its merits during the open day? No problem, it's risk-free! While we are certain that our divans will steal your heart, we'll be happy to refund your voucher if you are in anyway unsatisfied. So don't dither, order your new bed now and come and test it out in Antwerp!
Close