Noise-cancelling headphones
Noise-cancelling headphones with Bluetooth
d
h
m
s
Eliminate background noise
Are you a true music lover? Do you need an upgrade to your current listening experience? That works out well! The Veho ZB-7 Wireless Noise Cancelling-Headphones are ready to turn your music world upside down.
Imagine yourself sitting in a crowded metro, but with these headphones, you'll feel like you're at a concert of your favourite artist. Your own zen oasis amid the hustle and bustle. That's the magic of our cutting-edge Active Noise Cancellation (ANC) technology, designed to fully immerse you in your music.
But there's more than just peace and quiet. These headphones also feature premium 40mm dual-core speakers that produce unparalleled high-fidelity sound. Every musical detail comes to life, as if the artist is right next to you in the room.
Moreover, we've thought about your comfort. The super soft ear cushions ensure that you can listen comfortably for hours. And with an impressive playtime of up to 32 hours on a single charge, you can enjoy your music all day long. In addition, the Veho ZB-7 is also fully wireless, thanks to the updated 5.0 Bluetooth® technology. No more hassle with knots and loose wires - your music experience is now free and unbound.
Specifications
Brand: Veho
Speaker size: 40mm
Sensitivity: 117 ± 3dB
Frequency: 20Hz-20KHz
ANC reduction: 32dB
Battery: 500mAh
Bluetooth version: v5.0
Working distance: Up to 10m
Playtime: Up to 32 hours
Charging time: Up to 72 minutes
Input voltage: 5V⎓1A
Charging port: USB-C
Microphone: Yes
Weight: 230g
Plug size: 2.5 mm
Shipping
Expected delivery time: 15 working days
You will get an email with tracking code as soon as your order is on its way.
Follow your parcel, view your orders, return or report a faulty item via www.outspot.co.uk/en/my-purchases
Any questions? Visit www.outspot.co.uk/en/need-help
2 year guarantee applies through Outspot.
Campaign number : 15726
×
What our customers say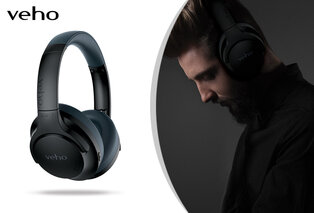 Noise-cancelling headphones
Unique: 100% money-back guarantee
It's unbelievable, but it's true. You never have to worry again when buying an experience for your friends, colleagues, family or for yourself. If you have second thoughts or if the recipient is not completely happy with the gift voucher, no problem at all.That's because at Outspot.be you can revoke your purchase up to 6 months after ordering it! So you or the recipient of the voucher will receive a full refund within that 6-month period, without any hoops to jump through. This guarantee is naturally only valid insofar as the voucher has not yet been reserved, used or has expired. What a truly unique and exceptional guarantee. But, after all, that's what Outspot is like. Please note: the guarantee does not apply if the refund guarantee is not explicitly stated on any special offer, as in some cases we are unable to reclaim the delivery/tickets from our partners.
Close
Free returns
Are you not as happy as expected with the product you ordered? Then contact our helpdesk within 30 days of receiving it and you can return the purchase free of charge. It doesn't matter what the reason is! We'll refund your purchase and you can order anything you wish, hassle-free. Just another great idea, from Outspot of course!
Close
Open day title
Come and test your divan next Saturday, 11 November, between 14.00 and 17.00 during our open day at the Crowne Plaza Hotel in Antwerp. Discover the different sizes and models and enjoy a cup of coffee or cool drink while listening to our expert advice.
Have you already completed your purchase but you're not convinced by its merits during the open day? No problem, it's risk-free! While we are certain that our divans will steal your heart, we'll be happy to refund your voucher if you are in anyway unsatisfied. So don't dither, order your new bed now and come and test it out in Antwerp!
Close