Festive table runner with Christmas prints
d
h
m
s
Perfect for the holidays
Feel the Christmas spirit in every detail of your dining room with this festive table runner with Christmas prints! Let your creativity run wild in your decoration and bring a cosy Christmas atmosphere to every dinner.
The combination of cotton and polyester makes this table runner not only attractive, but also very user-friendly. A little spillage while eating? No worries. This table runner can go in the washing machine (40°) and tumble dryer, and can also be ironed, meaning you can turn it round again quickly.
The table runner is available in four fun designs: stars, stylish red, Christmas gnomes and reindeer - there's something for everyone! Tip: you can also combine the different designs to really complete your Christmas table.
Whether you are planning a formal Christmas meal or a cosy brunch with the family, this table runner will really complete your Christmas table. Choose your favourite design, order now and let Christmas spirit sparkle in your home!
Specifications
Dimensions: 45 x 140 cm
Available in: stars, stylish red, Christmas gnome or reindeer
Composition: 70% cotton and 30% polyester
Easy to wash and iron, can also be tumble dried
Durability: sturdy and made to last
Campaign number : 15671
×
What our customers say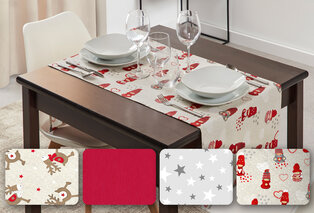 Table runner
Unique: 100% money-back guarantee
It's unbelievable, but it's true. You never have to worry again when buying an experience for your friends, colleagues, family or for yourself. If you have second thoughts or if the recipient is not completely happy with the gift voucher, no problem at all.That's because at Outspot.be you can revoke your purchase up to 6 months after ordering it! So you or the recipient of the voucher will receive a full refund within that 6-month period, without any hoops to jump through. This guarantee is naturally only valid insofar as the voucher has not yet been reserved, used or has expired. What a truly unique and exceptional guarantee. But, after all, that's what Outspot is like. Please note: the guarantee does not apply if the refund guarantee is not explicitly stated on any special offer, as in some cases we are unable to reclaim the delivery/tickets from our partners.
Close
Free returns
Are you not as happy as expected with the product you ordered? Then contact our helpdesk within 30 days of receiving it and you can return the purchase free of charge. It doesn't matter what the reason is! We'll refund your purchase and you can order anything you wish, hassle-free. Just another great idea, from Outspot of course!
Close
Open day title
Come and test your divan next Saturday, 11 November, between 14.00 and 17.00 during our open day at the Crowne Plaza Hotel in Antwerp. Discover the different sizes and models and enjoy a cup of coffee or cool drink while listening to our expert advice.
Have you already completed your purchase but you're not convinced by its merits during the open day? No problem, it's risk-free! While we are certain that our divans will steal your heart, we'll be happy to refund your voucher if you are in anyway unsatisfied. So don't dither, order your new bed now and come and test it out in Antwerp!
Close