Cotton duvet cover from Seashell
d
h
m
s
Dive into the luxury of Seashell: sleep like never before!
Dive into your bed and feel the difference immediately. The Seashell cotton duvet cover welcomes you like a soft embrace, perfect for those nights when you simply deserve the very best. Made from 100% natural cotton, this duvet cover has breathability that helps you maintain your ideal sleeping temperature.
Do you also feel like your duvet is always just a little too short at the bottom? The Seashell duvet cover has a generous length and extra long tuck-in strip, making waking up with cold feet a story of the past.
The plain design in 18 different fresh colours adds a touch of elegance to your bedroom, while also guaranteeing that you are investing in a sustainable, ethically produced product. Because yes, sleeping with a clear conscience is just better.
Treat yourself to that upgrade for your sleeping experience. Order now and discover the Seashell duvet cover.
Specifications
Material: 100% natural cotton
Thread density: 144 TC
Care: washable up to 60 degrees, can be tumble dried and ironed
Colours: anthracite, black, beige, sea green, blue, lilac, light blue, camel, taupe, light yellow, ochre, ultra blue, ecru, light pink, mint green, ocean, cloud blue and turquoise
Certificates: BSCI and OEKO-TEX
Pillowcase/pillowcases included:

140x200/220 - 1 pillowcase 60x70
200x200/220 - 2 pillowcases 60x70
240x200/220 - 2 pillowcases 60x70
Shipping
Expected delivery time: 10 working days
You will get an email with tracking code as soon as your order is on its way.
Follow your parcel, view your orders, return or report a faulty item via www.outspot.co.uk/en/my-purchases
Any questions? Visit https://www.outspot.co.uk/en/need-help
For hygiene reasons we can only take this product back or exchange it if the packaging is still intact.
Campaign number : 15318
×
What our customers say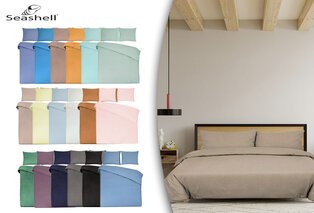 Cotton duvet cover