Comfortable tracksuit for men: trousers and hoodie
d
h
m
s
Warm and comfortable into the fall
Whether you're looking for cosy loungewear to chill out in or a tracksuit to work out in.... This tracksuit from Mario Russo for men is the solution if you want to get through the day comfortably yet stylishly. Thanks to its lovely fabric and stylish cut, the suit lends itself to a variety of situations. So this outfit should definitely not be missing from your wardrobe.
This outfit is not only nice and cosy, but also very practical! The front of the jumper has pockets in the shape of a pouch. Perfect for warming your hands or carrying small items. Moreover, the jumper also features a hood. This way, you are not only protected from the cold, but also from the rain.
With this tracksuit, you won't have to worry about being cold. Get cosy on the sofa and stay nice and warm. Thanks to this exceptional Outspot price, you will save not only on energy costs, but also on this high-quality tracksuit. Order now!
Specifications
Brand: Mario Russo
Composition: 65% polyester, 35% cotton
Available colours: black, navy, army green, burgundy, grey
Available sizes: M - 3XL
Campaign number : 15530
×
What our customers say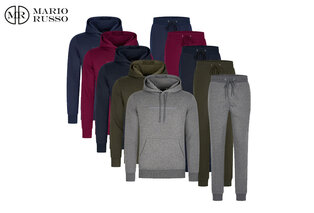 Tracksuit for men
Unique: 100% money-back guarantee
It's unbelievable, but it's true. You never have to worry again when buying an experience for your friends, colleagues, family or for yourself. If you have second thoughts or if the recipient is not completely happy with the gift voucher, no problem at all.That's because at Outspot.be you can revoke your purchase up to 6 months after ordering it! So you or the recipient of the voucher will receive a full refund within that 6-month period, without any hoops to jump through. This guarantee is naturally only valid insofar as the voucher has not yet been reserved, used or has expired. What a truly unique and exceptional guarantee. But, after all, that's what Outspot is like. Please note: the guarantee does not apply if the refund guarantee is not explicitly stated on any special offer, as in some cases we are unable to reclaim the delivery/tickets from our partners.
Close
Free returns
Are you not as happy as expected with the product you ordered? Then contact our helpdesk within 30 days of receiving it and you can return the purchase free of charge. It doesn't matter what the reason is! We'll refund your purchase and you can order anything you wish, hassle-free. Just another great idea, from Outspot of course!
Close
Open day title
Come and test your divan next Saturday, 11 November, between 14.00 and 17.00 during our open day at the Crowne Plaza Hotel in Antwerp. Discover the different sizes and models and enjoy a cup of coffee or cool drink while listening to our expert advice.
Have you already completed your purchase but you're not convinced by its merits during the open day? No problem, it's risk-free! While we are certain that our divans will steal your heart, we'll be happy to refund your voucher if you are in anyway unsatisfied. So don't dither, order your new bed now and come and test it out in Antwerp!
Close